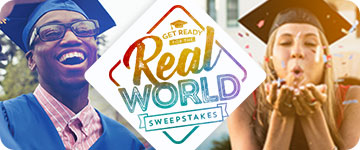 Official Rules
GRADIMAGES
GET READY FOR THE REAL WORLD SWEEPSTAKES OFFICIAL RULES
NO PURCHASE NECESSARY
A PURCHASE DOES NOT IMPROVE YOUR CHANCES OF WINNING
PROMOTION DESCRIPTION: GradImages Get Ready For The Real World Sweepstakes("Promotion") consists of a random drawing sweepstakes. Promotion begins on 12:00:00am on 3/20/17 and ends at 11:59:59pm on 6/30/17 ("Promotion Period"). The Promotion provides entrants with up to three (3) Sweepstakes entries during the Promotion Period for the opportunity to win the prizes described below. By participating in the Promotion, each entrant unconditionally accepts and agrees to comply with and abide by these Official Rules and the decisions of GradImages (the "Sponsor"), 100 Colony Square, 1175 Peachtree Street NE, Suite 425, Atlanta, GA 30361, which shall be final and binding in all respects.
HOW TO ENTER: Entrants can enter the Promotion through one of the following methods:

Pre-register to receive a notification when your photo proofs from GradImages are avaialbe at www.gradimages.com and entrant is automatically entered up to three (3) times based on information provided: one (1) entry for pre-registration and up to two (2) more entries for providing parents contact information.

Free entry without purchase: On a 3"x5" card, hand print your full name, date of birth, home address, telephone number, e-mail, name of school graduating from, and mail in a first class stamped envelope to to GRADIMAGES GRADUATION CELEBRATION SWEEPSTAKES, 761 Main Avenue, Norwalk, Connecticut, 06851. You can mail up to a maximum of three entries. Each properly completed and received card will receive one entry. Each card must be mailed individually. No photocopies, facsimiles or mechanical reproductions of cards permitted. No metered mail will be accepted. Envelopes must be postmarked by June 30 and received by July 7.
All entries must contain all information requested. Incomplete, unreadable or unintelligible submissions will be disqualified. All entries remain the property of the Sweepstakes Sponsor and will not be acknowledged or returned.
Sponsor is not responsible for any changes of an entrant's email address or phone number. In the event of a dispute, any Interne-based pre-registration entries will be deemed to have been submitted by the "Authorized Account Holder" of the email address submitted at the time of registration, provided that person meets all eligibility requirements set forth in these Official Rules. "Authorized Account Holder" means the natural person who is assigned to an email address by an Internet access provider, online service provider, or other organization that is responsible for assigning email addresses for the domain associated with the submitted email address. Any entrant who attempts to participate with multiple email addresses, phone numbers, or under multiple identities will be disqualified from participation in the Promotion.
SWEEPSTAKES DRAWING AND WINNER SELECTION: The odds of winning depend on the number of eligible entries received. One (1) potential Grand Prize Winner will be selected by random drawing to be held on or around July 21, 2017 from all eligible entries received. The random drawing will be conducted by Sponsor, whose decisions are final in all matters relating to the Promotion, including interpretation of these Official Rules, determining the prizes and awarding of the prizes. The potential Grand Prize winner (subject to Sponsor's verification process) will be notified via email and/or phone, at Sponsor's sole discretion. Sponsor or Sponsor's agent will attempt to notify the potential Grand Prize winner within 7 days following the random drawing. Potential Grand Prize winner must respond to potential win notification within 48 hours or prize will be forfeited and an alternate Grand Prize winner will be selected from among all eligible entries received, time permitting. If Grand Prize winner is not reachable at the phone number/email address provided and a forwarding phone number/email address is not made available, or if a prize notification is returned as undeliverable, then the Grand Prize will be forfeited and an alternate Grand Prize winner may be selected. The Releasees (defined below) shall have no liability for any winner notification that is not received by a potential Grand Prize winner for any reason.
The potential Grand Prize winner will also be required to sign and return within three (3) business days: 1) an affidavit of eligibility; 2) a validly executed IRS Form W-9, because winner is responsible for any and all taxes due on the prize 3) a verification of age and 4) a publicity release where permitted (collectively, the "Prize Claim Documents") before being certified as the grand prize winner. Refusal to fully complete, execute and return the Prize Claim Documents within the specified time will result in disqualification and forfeiture of prize. If a potential Grand Prize winner is disqualified for any reason, the prize will be awarded to one (1) alternate, randomly-selected potential Grand Prize winner chosen from the same pool of eligible entries.
ELIGIBILITY: This Promotion is open to legal residents of Canda and the fifty (50) United States, including the District of Columbia, age twenty-one (21) at the time of entry, and who have received a GRADIMAGES photo package pre-registration solicitation email and are graduating from a US college or university in Spring (April-June) 2017. Employees, officers, directors, agents and representatives of GradImages, Iconic and each of their respective parents, affiliates, subsidiaries, wholesalers, retailers, distributors, suppliers, advertising and promotion agencies directly involved with the Promotion, and their immediate family member (mother, father, sister, brother, any child, husband, wife and their respective spouses, regardless of where they reside) and those living in their same households, whether or not related, are not eligible to participate. This Promotion is void where prohibited, or restricted by law and is subject to all federal, state, and local laws, rules and regulations.
Prizes/Approximate Retail ValueS (ARV): Total ARV of all prizes in the Promotion: $5,000. No prize substitutions or transfer of prizes will be allowed, except Sponsor reserves the right to substitute prize(s) of equal or greater value if a prize listed or any portion thereof is unavailable for any reason. No more than the advertised number of prizes will be awarded. Limit one (1) prize per household.
One (1) Grand Prize ($5,000): Grand Prize to be delivered in the form of a bank check.
All federal, state or other tax liabilities (including income taxes) arising from this Sweepstakes and other costs and expenses associated with prize acceptance and not specified in these Official Rules as being part of a prize will be the sole responsibility of the winner. Recipients of prizes valued at over $600 will receive a 1099 tax form for the actual retail value of the prize no later than the January following awarding of prize.
GENERAL: All federal, state and local laws and regulations apply. Sponsor is not responsible for lost, late, unintelligible, misdirected, incomplete or damaged entries. Acceptance of a prize shall be construed as and signify the Grand Prize winner's agreement and consent that Sponsor and Presenter may use the Grand Prize winner's name, voice, address (city and state only), likeness, written statements, oral statements, biographical information and/or prize information, without limitation, for promotional purposes without further consideration, review, approval or payment, except where prohibited by law. Grand Prize winner shall have no claim (including, without limitation, claims based on invasion of privacy, defamation, or right of publicity) arising out of any use, blurring, alteration, or use in composite form of his or her name, voice, address (city and state only), likeness, written statements, oral statements, biographical information and/or prize information. By participating in this Promotion, entrants agree to be bound by the Official Rules and the decisions of the Sponsor which are final and binding in all respects. Sponsor reserves the right to disqualify any person found or suspected of tampering with the entry process or the operation of the Promotion or to be acting in violation of these Official Rules. Participants in the Promotion assume all liability for any injury or damage caused, or claimed to be caused, by participation in the Promotion or use, misuse or redemption of any prize. Sponsor and Presenter provide no warranty, representation, or guarantee of any kind for any prize. Sponsor is not responsible for any typographical, computer, or other error in the printing, the conduct of, the offering, or the announcement of any prize, and should any error take place in the announcement of a prize, a random drawing will be conducted from among those entrants claiming a prize to award only the advertised prizes. Participants, by entering the Promotion, agree to indemnify, release and hold harmless GradImages and Iconic Group, and their affiliates, parents, and subsidiaries; their respective advertising, promotion and production agencies; and the employees, officers, directors, agents and representatives of each of the foregoing (collectively, "Releasees") from any and all liability, claims or actions of any kind whatsoever for injuries, damages or losses to persons and property, including but not limited to property damage, personal injury and/or death, which may be sustained in connection with the Promotion, the receipt, ownership, or from any promotion prize usage related activity.
Sponsor is not responsible for undeliverable mail, postage due, electronic transmission errors resulting in omission, interruption, deletion, defect, delay in operations or transmission, theft or destruction or unauthorized access to or alterations of entry materials, or for technical, network, telephone equipment, electronic, computer, hardware or software malfunctions or limitations of any kind, or inaccurate transmissions of or failure to receive entry information by Sponsor on account of technical problems or traffic congestion on the Internet or at any website or any combination thereof. If for any reason the Promotion is not capable of running as planned, including infection by computer virus, bugs, tampering, unauthorized intervention, fraud, technical failures, or any other causes beyond the control of the Sponsor which corrupt or affect the administration, security, fairness, integrity, or proper conduct of this Promotion, the Sponsor reserves the right at its sole discretion, to disqualify any individual who tampers with the entry process, and to cancel, terminate, modify or suspend the Promotion. Caution: Any attempt by an individual to deliberately damage any website or undermine the legitimate operation of the Promotion is a violation of criminal and civil laws and should such an attempt be made, Sponsor reserves the right to seek damages from any such individual to the fullest extent of the law. Except as otherwise contemplated by these Official Rules, and to the extent entrants may otherwise elect at the time of entry, information provided by you for these Sweepstakes is subject to Sponsor's privacy policy.
In the event Sponsor are prevented from continuing with the Promotion as contemplated herein by any event beyond its control, including but not limited to fire, flood, natural or man-made epidemic of health or other means, earthquake, explosion, labor dispute or strike, act of God or public enemy, satellite or equipment failure, riot or civil disturbance, terrorist threat or activity, war (declared or undeclared) or any federal, state, or local government law, order, or regulation, public health crisis, order of any court or jurisdiction, or other cause not reasonably within Sponsor's control (each a "Force Majeure" event or occurrence), then subject to any governmental approval which may be required, Sponsor shall have the right to modify, suspend, or terminate the Promotion. In the event the Promotion is terminated for any reason, Sponsor shall have the right to modify, suspend, cancel or terminate the Promotion in its entirety or any affected portion thereof. If the Promotion or a particular portion thereof is canceled or terminated before the designated end date for any reason, Sponsor may (if possible) select the winner of the Grand Prize in a random drawing from among all eligible, non-suspect entries received as of the date of the event giving rise to the termination. Inclusion in such drawing shall be each entrant's sole and exclusive remedy under such circumstances. Only the type and quantity of the Grand Prize described in these Official Rules will be awarded.
LIMITATION OF LIABILITY: In no event will Releasees be responsible or liable for any damages or losses of any kind, including direct, indirect, incidental, consequential or punitive damages arising out of your access to and use of the website or downloading from and/or printing material downloaded from the website. Without limiting the foregoing, all prize materials including any website or web page associated with the Promotion are provided "as is" without warranty of any kind, either express or implied, including, but not limited to, implied warranties of merchantability, fitness for a particular purpose or non-infringement. Some jurisdictions may not allow limitations or exclusion of liability for incidental or consequential damages or exclusion of implied warranties, so some of the above limitations or exclusions may not apply to you. Check your local laws for any restrictions or limitations regarding these limitations or exclusions.


DISPUTES: This Promotion is governed by the laws of Canada, the United States and the State of Connecticut, without respect to conflict of law doctrines. As a condition of participating in this Promotion, Participants agree that any and all disputes which cannot be resolved between the parties, and causes of action arising out of or in connection with this Promotion, shall be resolved individually, without resort to any form of class action, exclusively before a court located in Connecticut having jurisdiction. Further, in any such dispute, under no circumstances will Participants be permitted to obtain awards for, and hereby waive all rights to claim punitive, incidental or consequential damages, including attorneys' fees, other than Participant's actual out-of-pocket expenses (e.g. costs associated with entering), and Participant further waives all rights to have damages multiplied or increased.
RULES/WINNERS' LIST: For names of winners or an additional copy of these Official Rules, send a self-addressed envelope by 12/31/2017 to: GRADIMAGES GRADUATION CELEBRATION SWEEPSTAKES, 761 Main Ave, Norwalk, Connecticut, 06851. Winners' list to be available after 7/31/2017 and must be received before 12/31/2017.
Sponsor and Presenter is GradImages, 100 Colony Square, 1175 Peachtree Street NE, Suite 425, Atlanta, GA 30361.